TRIO PRO
Internet, a mobile subscription and TV. TRIO PRO adapts to your needs by allowing you to combine internet and two other products of your choice.
Configure your pack
Your consumption
Internet
400 Mbps…
Super fast broadband and foolproof security !
With our cable technology, you get broadband internet with a download speed of 400 and an upload speed of 20 Mbps. And with no download limit You are also eligible for the VOO Internet Security service to protect all your devices. What more could you ask for?
Nos conditions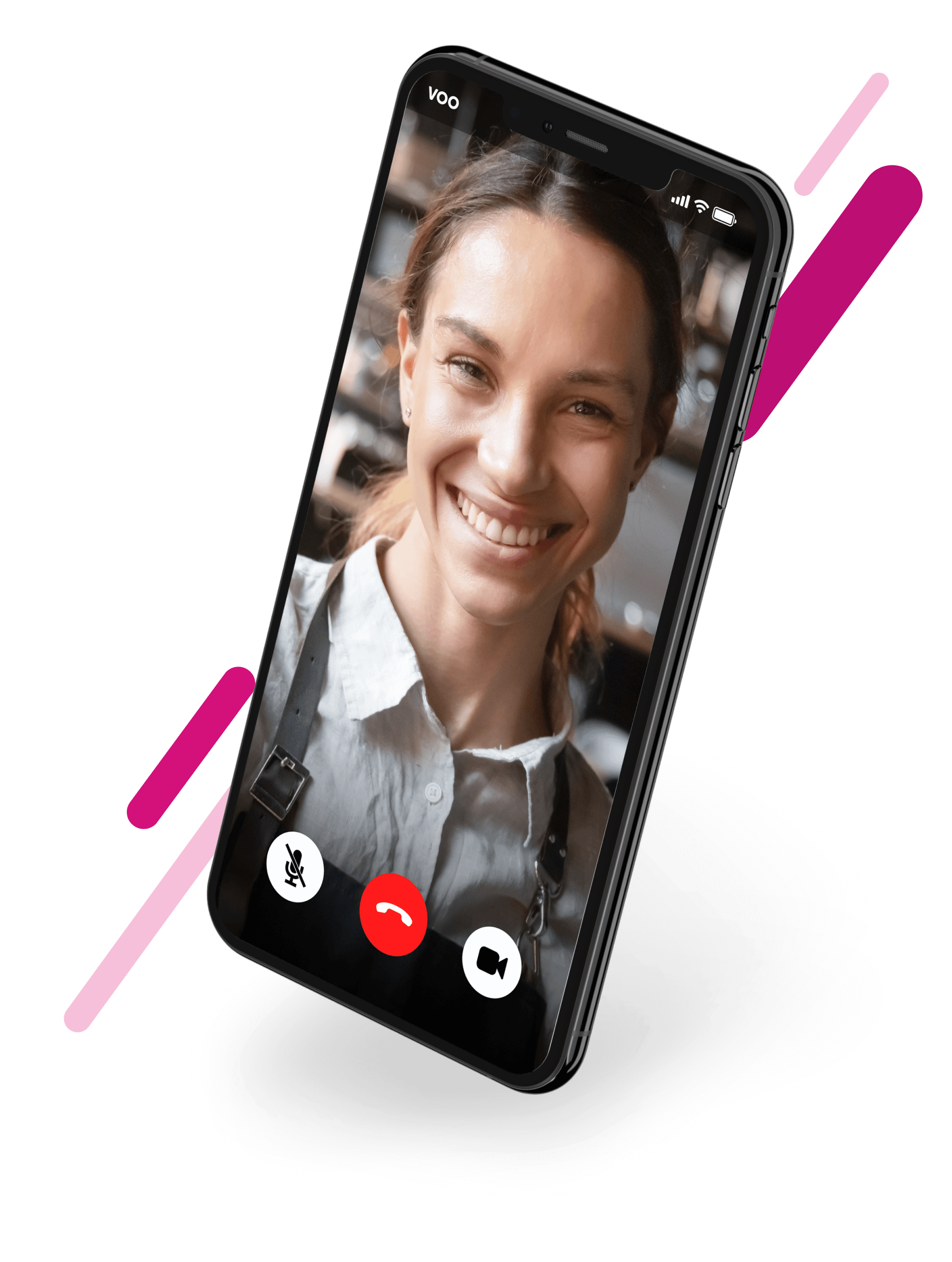 mobile
The most generous mobile offer
Never lose touch with your customers: the calls and text messages included in your pack are unlimited.
Unlimited calls and texts
included
And up to 5 SIM cards
10€
Per additional SIM with 5 GB inclusive
+ €12/month for an additional 25 GB
Our terms and conditions
The best of TV, wherever and whenever you want

Films, series, documentaries, sport and also cartoons... With 70 channels, 19 of which in HD and many EXTRAS TV, each family member will have their fill, each on their own screen: TV, computer, tablet and mobile

Included in TRIO and QUATRO PRO

Free: choose between Be tv, VOOsport World or Family Fun.

VOOsport

Follow the Jupiler Pro League with the 3 Eleven Pro League channels with the VOOsport option, but that's not all!! You will also be able to enjoy the matches of the D1B Proleague, the Women's Super League and E-sports.

offered in all packs with mobile until 31/12/2021

or from 4,13€/month* as an option

Be tv

With your Be tv subscription, delve into a catalogue of 1,000 titles and the best of cinema and series exclusively !

Included in TRIO and QUATRO PRO

Free: choose between Be tv, VOOsport World or Family Fun.

VOOsport World

Share in the thrills and feel the adrenaline of the greatest international sport meetings from your own home.

Included in TRIO and QUATRO PRO

Free: choose between Be tv, VOOsport World or Family Fun.

Family Fun

Humour, films, series, video games, kids…
The best of family channels, it's Family Fun!

Included in TRIO and QUATRO PRO

Free: choose between Be tv, VOOsport World or Family Fun.
Our terms and conditions
VAT
All rates are understood to be exclusive of VAT and are subject to the VOObusiness general terms and conditions. They are only available to professionals with a company number and the liberal professions.
Speed 400 Mbps/20 Mbps
Speed: up to 400 Mbps/20 Mbps depending on the installation, volume: unlimited
Download speed has increased from 200 to 400 Mbps, and upload speed from 10 to 20 Mbps. These speeds are already available on most of the VOO network and will be delivered to the remaining areas in the next few months.
Download and upload speed
The download and upload speeds depend on your computer installation, your internal cabling and the presence of a router. Announced speeds are speeds accessible via a cable connection. The speeds may be lower when using a Wi-Fi connection.
Download volume
The VOO Unlimited Internet service offers are solely for personal use. The unlimited nature of the service cannot be assured, particularly in cases of fraud, dishonest usage, usage infringing the rights of third parties, particularly the intellectual property of third parties, or use that constitutes an abuse of case law. The customer must have a eurodocsis 3.0-compatible VOO modem to be able to use the VOObusiness offer. Customers who are hiring a different VOO modem at the time when taking up the offer, will have their present modem swapped for a eurodocsis 3.0 VOO modem free of charge. Customers who own a different VOO modem at the time when taking up the offer will receive a eurodocsis 3.0 modem free of charge.
Unlimited Mobile Plan
All VOO's "unlimited" offers are exclusively reserved for normal professional use. Any usage that exceeds a total of 6,000 call minutes or text messages per month (1 call minute = 1 text message) is considered abnormal. In the event of abnormal usage, VOO will charge the customer an additional cost of €0.17 per additional SMS or call minute.
Mobile plans
In Belgium, the call minutes, SMS and mobile internet volume included in the offer are valid to all Belgian mobile and fixed networks. In the European Economic Area, the call minutes, SMSes and mobile Internet volume included in the offer are valid to all Belgian mobile and fixed networks and, for an additional charge, to those of the European Economic Area (Calls made €0.032/min - SMSes made €0.01/SMS - Data €0.003/MB). However, as long as the content of the offer is not exhausted, no supplement is applicable for the first 60 minutes of calls made, the first 60 SMS messages sent and the first 200 MB of internet volume used daily. Calls are counted per second from the 31st second onwards and data are charged per 10 KB above the first 100 KB. Call minutes, SMS and internet volume cannot be carried forward to the following month and are not valid to special numbers, surcharged numbers (voting, 0900, etc.) and services provided by third parties.
As VOO only receives consumption reports a posteriori for calls made while roaming and under cover of an operator that is not integrated into the Camel telecom protocol, it cannot in this case technically alert the Customer in real time that he has exceeded his package. The list of operators integrated in the Camel protocol is available on the voo.be website.
DataBoost PRO 25 GB option
Option only available to subscribers to a DUO PRO NET+MOBILE, TRIO PRO NET+MOBILE+TV, TRIO PRO NET+MOBILE+TEL or QUATRO PRO NET+MOBILE+TV+TEL Pack. Option not compatible with a MOBILE PRO plan or with a DATABOOST PRO 25 GB option. Data not used during a month cannot be carried over to the following month. Mobile internet included in the offer is valid in Belgium and Europe. In Europe, if the daily threshold of 200 MB/day is exceeded, a surcharge of €0.006/MB will be applied. To find out more, visit us at voobusiness.be or call into one of our stores. Prices and specifications as at 12/11/2019.
International Option
The International Option is a supplementary service that can only be combined with a VOO phone service. With the International Option you can call landlines in 64 countries, 24/7, except for special numbers and, in Morocco, numbers provided by the WANA Corporate and Medi Telecom operators, which are numbers starting with the following prefixes: 00212 520, 00212 521, 00212 525, 00212 526, 00212 527, 00212 529, 00212 530 ,00212 531 , 00212 532, 00212 533, 00212 534, 00212 538, 00212 540, 00212 546, 00212 547, 00212 550, 00212 553. Maximum: 2,000 minutes per month. If you exceed your limit of 2,000 minutes per month, the standard VOO international call rates will apply. More information can be found on our website. Any unused minutes cannot be carried over to the following month. Offer valid for personal use only from a single number. Offer cannot be used in conjunction with packages offering discounts on international calls, even from different numbers.
Callouts
Troubleshooting in 4 hours is possible if the call is made before 4pm on a working day and before 1pm on Saturday.
VOO Internet Security+
Option included in all the PRO Packs and that can be installed on up to 6 computers at most (PC or MAC).